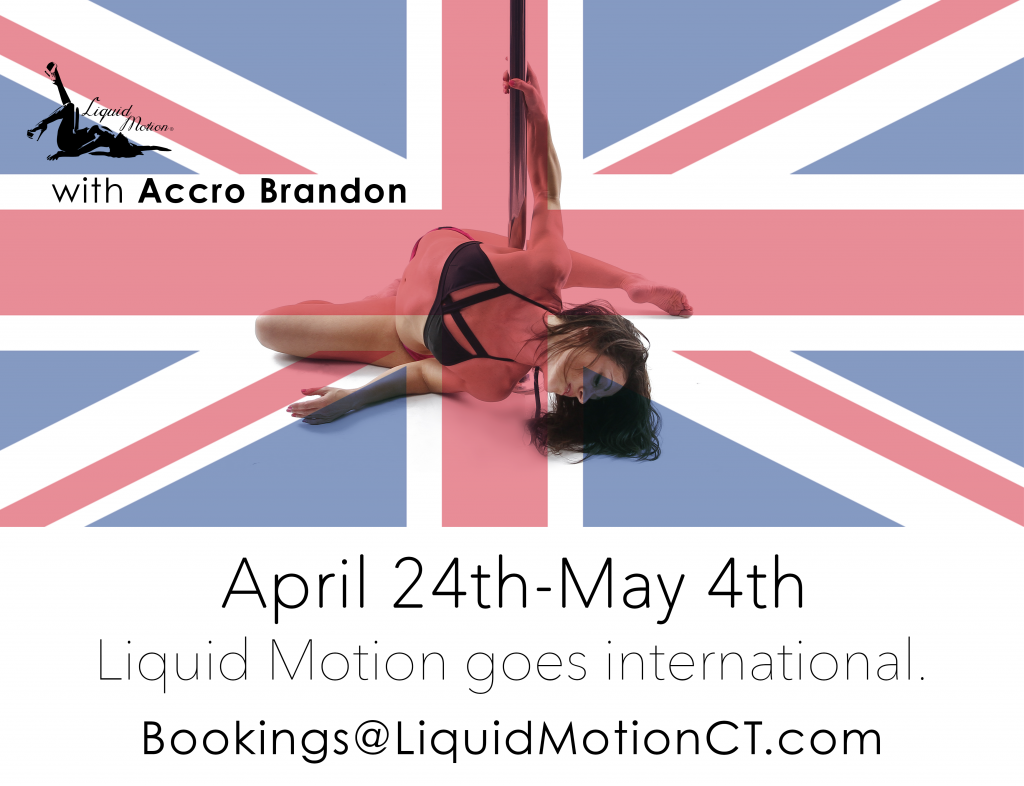 Liquid Motion will be headed overseas for the first international tour throughout the United Kingdom. Join us at the Scottish Pole Dance and Fitness Convention for a free workshop taster or book workshops at your studio! Sensual movement, human connection through dance, fluid floor work, graceful pole transitions and how to incorporate all of these with a pole partner are what you can expect to gain from any Liquid Motion workshop.
Liquid Motion® is a methodology that can apply to any aspect of life, from everyday movement to technical dance vocabulary. This program teaches how to achieve a seamless and natural movement quality by applying basic dance theory and sensual movement exploration. Through self-confidence, knowledge of techniques and power of individuality, you will have the tools to further your education and exploration on your own. Liquid Motion® aims to help our students grow on a daily basis, not just in a 90 minute workshop.
Our seven different workshops were all created with the same Liquid Motion methodology, but with different ideas behind each one. In Liquid One you will learn how to achieve seamless and natural movement on the floor and walls; while in The Art of Walking you master how to move around the pole with graceful walking techniques, in or out of heels. Liquid Two takes your understanding of movement from the floor to the pole for fluid transitions and spins; jump into Liquid 2 Doubles Acro Dance and take things to the next level with a partner. No matter what Liquid Motion workshop you decide is right for you, you will leave feeling more prepared then ever to take on your next pole challenge. Whether it's a performance in front of hundreds or a small class at your local studio, you'll exude confidence with the knowledge and movement you'll take away from Liquid Motion.
In Addition, Accro Brandon, Jeni's dance partner and co-creater of her L2Doubles workshop, will be accompanying her during this trip. Brandon has his own workshop offerings in Acro Yoga and pole dance, if there is any interest in what he offers, his press kit and workshop descriptions can be found by visiting the link below. He handles his own bookings so please contact him directly if you would like to arrange workshops while Liquid Motion is there.
https://drive.google.com/file/d/0B8cUiwcGudXEX2RDV3FXMDYwcHc/view?usp=sharing
"Today I want to express my gratitude to Jeni Janover and Liquid Motion. Tuesday I got to experience it up close and personal and to see Jeni at work. Whenever an instructor is able to define and dissect movement concepts in a way that is understandable to any level of mover, I feel so happy. She has nurtured and loved on the fundamental ideas of movement and sensuality, and she translates what can be a complicated foreign language for others into a clear toned experience. Also, she makes me WANT TO DANCE. And my god, I did just that. Literally felt like throwing my crutches to the other side of the room and diving for the floor. And she embraced it with cheers. And I got all LIQUID in the room on the floor. And it made my soul happyyyyyyy." – Tracee Kafer, Finding Your Freestyle and Pole Speak Creator, New York City, New York
"We had the opportunity to have Danielle in our Studio. Liquid Motion was incredible! All our girls were very satisfied and happy to learn beautiful movements in a very professional way. Hoping to learn more and more from you guys!! Thanks, Highly recommended!!" – Valerie Alvarado, BEATS Dance & Fitness, Puerto Rico
"I just wanted to thank you AGAIN. Ever since being up at Empowerment Through Exotic Dance with you for the Intensive my dancing has taken on a new life. I've been able to explore and push my own limits more regularly. I don't feel like I'm stuck anymore. Before your intensive, people were asking me to do a fluidity class and just couldn't figure out how to translate it to them so I had been holding off for like MONTHS. After spending all that time with you, practicing and re-reading 12 pages of notes over and over again, I've found a more profound love for what I do and how I teach it. I'm not sure if I would be at this point in my dancing journey if I hadn't taken your training." – Melissa Morris, Owner of Indy Pole Fitness, Indianapolis, Indiana
For full descriptions of each workshop, visit www.LiquidMotionCT.com/workshops