Liquid Motion® is a method and style of movement that teaches total acceptance of one's physical and mental self. Our program provides the tools to explore the body's natural movement, build self-confidence, and understand the body on a higher physical and mental level. This program teaches you how to achieve seamless, natural movement quality by applying basic dance theory, fitness, conditioning exercises, and sensual movement exploration. Through self-confidence, knowledge of techniques, and power of individuality, Liquid Motion® provides the tools to further your education and exploration, on your own. We strive to provide classes that are fun, affordable, and designed to appeal to everyone, from the everyday person to the advanced dancer or instructor. Liquid Motion® stands out from other classes because our methods apply to any type of movement, enabling students to immediately feel successful, as well as continue their education beyond the class. This approach to movement makes our program an invaluable resource that provides long-term benefits, including a higher level of self-esteem, a deeper knowledge of oneself on all levels, and a stronger, healthier body that moves with confidence and grace.
Our History
Liquid Motion® was born from the connection Jeni Janover found with herself while taking classes at a local pole dance studio. Rather than connecting with the pole tricks, Jeni was drawn to the actual movement and her development of unbelievable body awareness. She was reunited with her dance roots, but this time it was very different.
As classes progressed, Jeni began to disconnect with many of the practices used to teach "sensuality". She felt students were being taught by imitation rather than exploration and technique. That element of real body awareness was lost. Students were not given the true fundamental ideas and techniques that could be applied to what they were doing. And that was what would truly give them the end results they were looking for.
Jeni decided there needed to be a simple methodology that could help everyone understand this kind of movement, this kind of sensual movement. First, she removed the pole from her foundation. She felt it was a distraction, creating confusion and a negative stigma for new students. Without the pole, there were no pole tricks. By removing the tricks, the students were compelled to focus on their own body's movement and explore the variations that they could create. The floor was now their apparatus. Their body was their tool. Jeni was their teacher, educating them with true technique when it came to sensual movement. It was then that Liquid Motion® was born.
Our Team
We teach women to love who they are on all levels. We give them an unbelievable sense of confidence which carries on to their everyday lives and help them appreciate and celebrate all women. Once you tap into this feeling and are able to express it through movement, is nothing short of amazing.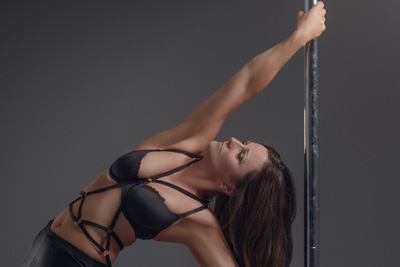 "I live by Picasso's creative maxim: Learn the rules like a pro, so you can break them like an artist."