Liquid Motion® is a method and style of movement that teaches total acceptance of one's physical and mental self. Our program provides the tools to explore the body's natural movement, build self-confidence, and understand the body on a higher physical and mental level. This program teaches you how to achieve seamless, natural movement quality by applying basic dance theory, fitness, conditioning exercises, and sensual movement exploration. Through self-confidence, knowledge of techniques, and power of individuality, Liquid Motion® provides the tools to further your education and exploration, on your own. We strive to provide classes that are fun, affordable, and designed to appeal to everyone, from the everyday person to the advanced dancer or instructor. Liquid Motion® stands out from other classes because our methods apply to any type of movement, enabling students to immediately feel successful, as well as continue their education beyond the class. This approach to movement makes our program an invaluable resource that provides long-term benefits, including a higher level of self-esteem, a deeper knowledge of oneself on all levels, and a stronger, healthier body that moves with confidence and grace.
Our History
Liquid Motion® was born from the connection Jeni Janover found with herself while taking classes at a local pole dance studio. Rather than connecting with the pole tricks, Jeni was drawn to the actual movement and her development of unbelievable body awareness. She was reunited with her dance roots, but this time it was very different.
As classes progressed, Jeni began to disconnect with many of the practices used to teach "sensuality". She felt students were being taught by imitation rather than exploration and technique. That element of real body awareness was lost. Students were not given the true fundamental ideas and techniques that could be applied to what they were doing. And that was what would truly give them the end results they were looking for.
Jeni decided there needed to be a simple methodology that could help everyone understand this kind of movement, this kind of sensual movement. First, she removed the pole from her foundation. She felt it was a distraction, creating confusion and a negative stigma for new students. Without the pole, there were no pole tricks. By removing the tricks, the students were compelled to focus on their own body's movement and explore the variations that they could create. The floor was now their apparatus. Their body was their tool. Jeni was their teacher, educating them with true technique when it came to sensual movement. It was then that Liquid Motion® was born.
Our Team
We teach women to love who they are on all levels. We give them an unbelievable sense of confidence which carries on to their everyday lives and help them appreciate and celebrate all women. Once you tap into this feeling and are able to express it through movement, is nothing short of amazing.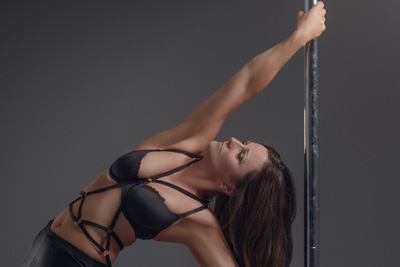 "I live by Picasso's creative maxim: Learn the rules like a pro, so you can break them like an artist."
Our Clients
I recently completed the Liquid Motion 2.0 certification at the gorgeous Studio Phoenix in Arlington Heights, Illinois. At the end of the certification program, Jeni left us with a question: Why do you dance? On my flight home, I gave some thought to her question. I think for me, I…read more→
"I've found Liquid Motion® to be a great tool for everyone. Even as a working dancer, I've found taking these classes to be a great way to review and smooth out my floor-work technique bases. Plus, Jeni and her classes are just really awesome."
Hi Jeni! I just took your class for the first time yesterday. You must get this ALL the time, but I really loved your class. I liked how you dissect and explain the moves, including all the subtleties involved. I think I have good body and spatial awareness, so I…read more→
Our studio recently hosted three Liquid Motion Workshops with Jeni Janover, and everything about it was amazing. The workshops were very well organized and covered a good amount of material without being overwhelming. Jeni is very approachable and down to earth, she's extremely passionate about her trade and clearly enjoys…read more→
Back home and I finally got a few minutes to realize how much has happened during these last two weeks – needless to say I'm completely overwhelmed! I'm still not sure of 55 h of training within less than two weeks have been my best or worst idea ever and…read more→
We have hosted Liquid Motion twice in our three years of being open as a studio and we can't wait to host them again in 2016! The staff is simply incredible!!! Everyone had fun and learned soooooo much new material. Jeni has an empowering way of teaching and explaining that…read more→
I had never worked with Jeni before so I have to admit I was a little unsure of what to expect, but I was so thrilled with the experience. Jeni (and Brandon) were so great and personable. Fun & easy to work with, full of great skills and information to…read more→
As a student of Laban Movement Analysis, in training to my certification, I was lucky to have a mini-workshop in Liquid Motion. For me it was the epitome of practicing Bartenieff Fundamentals - a movement practice which helps to re-incorporate our developmental movement patterns we acquired between birth and 1…read more→
We had the opportunity to have Danielle in our Studio. Liquid Motion was incredible! All our girls were very satisfied and happy to learn beautiful movements in a very professional way. Hoping to learn more and more from you guys!! Thanks, Highly recommended!!
Today I want to express my gratitude to Jeni Janover and Liquid Motion. Tuesday I got to experience it up close and personal and to see Jeni at work. Whenever an instructor is able to define and dissect movement concepts in a way that is understandable to any level of…read more→
I had heard lots of wonderful things throughout the pole community about the Liquid Motion method and so I was very excited I could bring them to my studio for 2 workshops. What a great decision!!!! I really enjoyed learning the techniques and am eager to apply them to my…read more→
I can't Thank You enough for sending Danielle Mayzes our way here in San Antonio, Texas. Danielle is an amazing instructor and an exquisite performer plus sooooooo much fun! SSM students loved your program and recognized the importance of such a program and why it is needed in the Pole…read more→
We have had Liquid Motion here at Xpose Fitness before and have always had a great experience. Stephanie Skyy has always taught them here and she is just an absolute treat to work with. All of the students had a blast and were excited to learn some new stuff or…read more→
I heard about Liquid Motion when they were just starting out. I first found Jeni through StudioVeena where she told me about her program and that she would be bringing it to Brass Vixens in Toronto. I was the woman with no dance experience who jumped into pole and originally…read more→
I am the owner of Diva Den Studio in Portland Oregon. Danielle Mayzes with Liquid Motion came out a few weeks ago and did some workshops with us. We had a blast! She was so good at breaking it all down and giving different ways of doing things. I have…read more→
I loved it. It changed my entire perspective on floor work.
Spinning Angels Pole Fitness asked Liquid Motion to come and do workshops with us in Jan 2013, and we still say it is the best workshop we have ever done! We liked the workshops and instructors (Jeni Janover and Danielle Mayzes McCarthy) so much we asked them to come back…read more→
Liquid Motion makes movement accessible and systematic. It added possibility to everything.
Well we had an AMAZING time with Jeni Janover at Liquid Motion this weekend! She taught 2 Liquid 1 workshops, 1 Liquid Two workshop, and the all new 5 For Floor! We LOVED all of them and can't wait to do them again!! I highly recommend these workshops to anybody…read more→
Loved it and can't wait to make it part of my dancing!
I had the opportunity to take all three of the Liquid Motion workshops recently. They were absolutely amazing and completely changed how I approach floorwork. And the best part was, even though I'm not particularly flexible, I could use everything Jeni taught us! Yay!
As promised, I am blogging today about my recent adventure taking a Liquid Motion® class with the amazing Jeni Janover. For those new to my blog, note that I am NOT a pole dancer, I am an overweight woman looking to change her lifestyle for this year. This will be…read more→